Heh, heh, as I lay in bed tonight and for some reason I started to wax nostalgic and what should come to mind but thoughts of how gloriously wonderful the sounds of a Motorola Vibrasonic Reverb was the first time I heard one in a car, at a car wash in 62 or 63. Think it was a 62 Chevy.
Anyone else Remember those?
Soon after hearing the first one it seemed all the really 'cool' cars cruising thru the local hangout burger joint had them echoing away as they drove thru. I seem to recall that most all the 65 and 66 GTO's seemed have had those reverbs.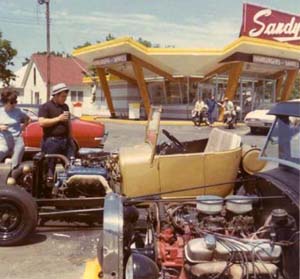 My local burger joint circa 1969,
those are my coupes dual 4's in the pic.
Heh, heh, I think Shelly Fabraes song 'Johnny Angel' was specifically made to be played on a Motorola Vibrasonic Reverb unit just for the echo. Early units actually had springs for the Reverb function, I can remember being in a car going over railroad tracks and hearing the echo go boing boing. The first thing I put in my new 67 Dodge Charger was a Motorola Vibrasonic Reverb Unit hanging under the dash hooked to a speaker in the rear fold down panel.
Man was that cool or what. But alas those didn't last long technology wise, they came out just before real stereo tape players and then FM stereo radios.
I soon replaced the Vibrasonic under the dash in my Charger with a big metal clipon removable gadget that a stereo FM 8track tape deck was attached to, It was removable, not so much for theft protection, but to allow me to drag the contraption over and click it in place in my 31 Ford Coupe thus only having the expense of one Stereo Unit for both cars.
Darn if I didn't find one of those removable Stereo brackets on ebay.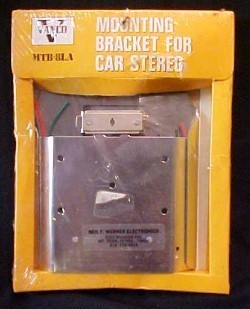 Well, heh, heh, not sure if posting this will let me go to sleep now or not, but I do feel better about getting it posted.
Comments:
---
On 4/23/2011 11:12 PM, John Gabrielsen wrote:

I read an article "Anyone Remember" I thought it was funny because I still have the original reverb that I had in my 1965 Covair Corsa convertible when I was in Witchita Kansas in the summer of 1965, I also have several of the slide out brackets that you have pictured. This all occured just before I went in the service.

John