Mark Your Calendar!!!
January 17, 18, 19 & 20 2013
Starbird-Devlin Rod & Custom Charities Car Show
This will be the 56th "Wichita Tradition" Car Show
Cars For Charities Co Magnificent 7 Preview Party Event:
Thursday night Magnificent 7 Preview Party Event - Thursday January 17 - from 6pm to 9pm
Where: Century II, Downtown, Wichita, KS.
Admission: $100 (Includes drinks and snacks)

$50 discount tickets available to participants

Tickets will be available at each charity and participating sponsor locations
Show Car Entries:
Registered cars $30 (till Jan 4, 2013) or (if space is available) at the door $40
Magnificant SEVEN entry deadline is Dec 21, 2012
Show cars assigned entry times Thursday January 17 from 8 am to 8 pm.
Show Times:
Friday January 18, 2013 from Noon to 10 pm.
Saturday January 19, 2013 from 10am to 10 pm.
Sunday January 20, 2013 from 10am to 6 pm.

Trophies at 5 pm Sunday

Cars exit immediately after trophies
all Buildings must be cleared by midnight Sunday
General Admission:
"Couples": $20
Adults: $12
Juniors (12-17): $6
Family Ticket (2Adult + Children): $20
Child (11 and younger): Free
Tickets available online at Wichita Tix
Discount tickets will be available at sponsor locations. See www.StarbirdDevlin.com
Thank You!!

Cars for Charities Co.

100% of all proceeds go directly to:
The Arc of Sedgwick Co., Starkey Inc. & Big Brothers Big Sisters -
More Information: www.StarbirdDevlin.com

Hope to see you there!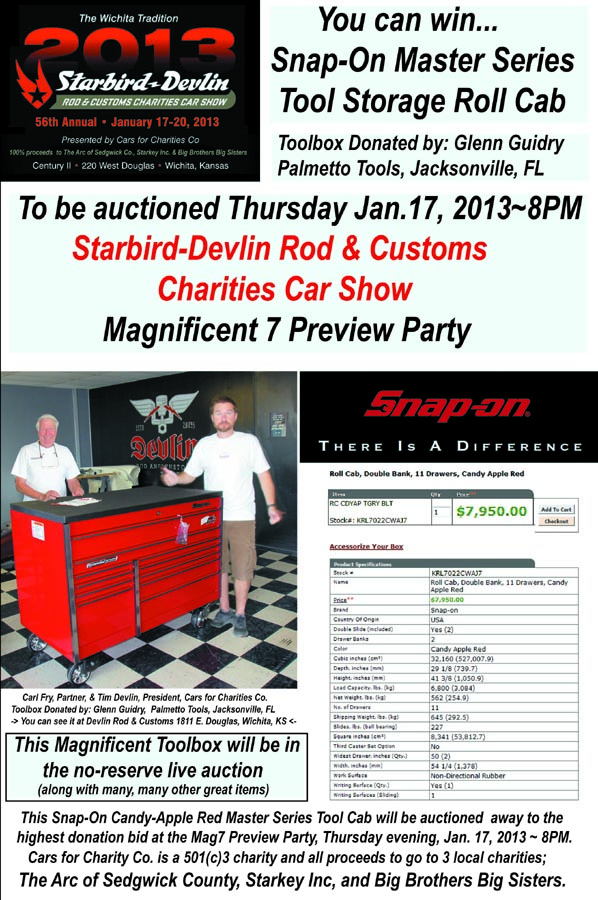 The Arc of Sedgwick County is a non-profit organization dedicated to improving the quality of life for 7,500 local individuals with developmental disabilities and their families through life-long support including educational and social programs, case man agement, respite opportunities and advocacy in the community. The Arc of Sedgwick County
2919 West 2nd Street
Wichita, KS 67203
For Registration, Sponsoring a Trophy or to make a direct donation
contact: CARL FRY, 316-755-2198 or cfry6@cox.net
or Kevin Fish at The ARC of Sedgwick County - 2919 W. 2nd Street, Wichita, Ks. 67203
316-943-1191 - FAX 316-943-3292 - arc@arc-sedgwickcounty.org
The ARC of Sedgwick County began in 1953 when parents concerned about services and future opportunities for their children formed The Wichita Association for Retarded Children. This was the first organization in this country to promote the general welfare of all persons with mental retardation, to foster the development of programs on their behalf and to increase the public's awareness and acceptance. This group has a legacy of Community Programs they started and support - KETCH - Lilac Lane Preschool - Evening Respite - Connection Point - TMH Graduation - Shooting Stars Self-Avocates - Y.E.S.S. Program - The Epilepsy Resource Connection - Awareness through the Arts - Burning Sage Ranch - National Mini-Tours - ARC Kansas Tennis Tour - Discovery Days - The Young Adult Club - In-Service Training for Epilepsy Support Group - Down Syndrome Parents - Sedgwich County Sheriff Dept - and City of Wichita Police Dept.