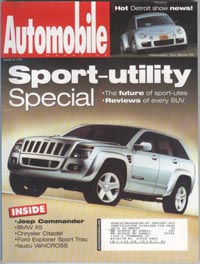 Item # AU9903
Automobile Magazine
March 1999
Vol 13 #12
This Issue Includes: The Future Of Sport-Utilities; Sport-Utility Digest; The Off-Roadster; Time And Motion Studies; Independance Day; Pacific Rim Shots; Heroes Of The Revolution; Four Seasons Porsche Boxster; Cars: Jeep Commander; BMW X5; Ford Explorer Sport Trac; Chrysler Citadel; Isuzu VehiCROSS; Mercedes Benz GLK; Ford SVT Mustang; Porsche Boxster.
$5.50+ Shipping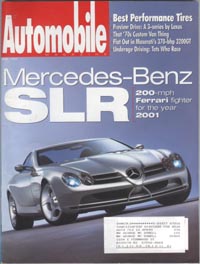 Item # AU9904
Automobile Magazine
April 1999
Vol 14 #1
This Issue Includes: Speed Vision; On The Edge; Consumer Advocate; Beetlemania; Return Of The Trident; Four Seasons Toyota Sienna XLE; Li'L Racers; Cars: Mercedes Benz SLR; Mercedes Benz CLK320; Maserati 3200GT.
$5.50+ Shipping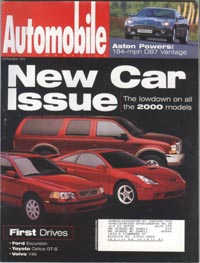 Item # AU9909
Automobile Magazine
September 1999
Vol 14 #6
This Issue Includes: 2000 New Cars; Finders Keepers; Journey To The End Of The World; Cars: Toyota Celica GT-S; Volvo V40; Ford Excursion; Cadillac DeVille; Saturn LS2; Aston Martin DB7.
$5.50+ Shipping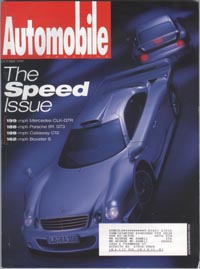 Item # AU9910
Automobile Magazine
October 1999
Vol 14 #7
This Issue Includes: Iron Elephants, Ten Biggest Automotive Engines Of All Time; Speed Visionary; Great Moments In Racing; Foster Cars, Ophan Makes; Four Seasons Mercury Cougar; Cars: Mercedes Benz CLK-GTR; Porsche 911 GT3; Porsche Boxster S; Corvette Callaway C12; Bugatti EB218; 02 Cadillac EVOQ; 00 Cadillac Catera Sport; 00 Cadillac Steinmetz Catera; Mercury Cougar.
$5.50+ Shipping