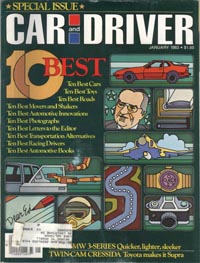 Item # CD8301
Car and Driver Magazine
January 1983
Vol 28 #7
This Issue Includes: Ten Times Ten Best 1983: Ten Best Cars; Best Features; Performance Statistics; Ten Best Movers And Shakers; Quotations A.J. To John Z.; Ten Best Roads; Roadfood Restaurants; Ten Best Innovations; Ten Best Race Drivers; Racing Moments; Ten Best Alternative Modes; Ten Best Automotive Books; Ten Best Letters To The Editor; Most Provacative C/D Stories; Ten Best Photographers; Ten Best Automotive Toys; Preview: New BMW 3-Series; Road Test: 83 Toyota Cressida; New & Improved Redesigned Rabbit/Jetta, Touring Sport 84 Lincoln, Cadillac Two-Seater, More Power For The RX-7; Hi-Tech For Goodyear.
SOLD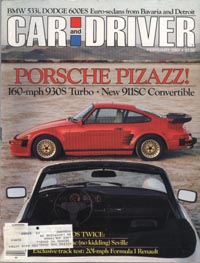 Item # CD8302
Car and Driver Magazine
February 1983
Vol 28 #8
This Issue Includes: Porsche Pizazz!: 83 Porsche 911SC Cabriolet, 83 Porsche 930S Turbro; Road Tests: 83 Dodge 600ES, 83 BMW 533i; Search And Destroy Destruction Of Constitutional Rights; Jon Ward And His Bad-Ass Cadillac; Off-Road In The Welsh Mountains In A Gelandewagen; Short Takes: 83 Honda Civic 1500S, 83 Ford Bronco II; Saab 900 Slide Car Skidpad Training; New & Improved V-6 Power For The Camaro, New Micromini Nissan, Pontiac 2000 Turbo; Lancia Trevi Volumex; Top-Ten Fuelers 1983; Honda VT250F; Alain Prost's F1 Renault; F1 Turbos The Modern Era, Renault's Racing Farm Club.
SOLD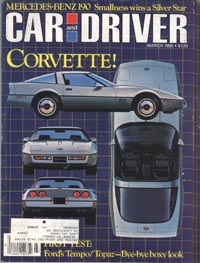 Item # CD8303
Car and Driver Magazine
March 1983
Vol 27 #9
This Issue Includes: Road Test: 1984 Corvette; One Classy Chassis; Design Staff's Dream Car; The Buck Stops Here Dave McLellands Design Decisions; Looking Backward Corvette Story; Road Tests: 83 Toyota Tercel 4wd SR5, Preview Test: Ford Tempo, Preview: New Mercedes-Benz 190/190E; 83 Mitsubishi Tredia LS; Freedom By The Quart Synthetic Oil; Project Discount II The Sequel; Short Takes: 83 Porsche 928S, 83 Chevrolet Cavalier CL Type-10, 83 Callaway Turbo Scirocco; New & Improved Higher-Performance Z28, 84 Lincoln Mark VII, New Prelude, 2-plus-2 Alliance Spinoff; Volvo 360GLT; Hi-Tech Turbos; Baja Diary.
SOLD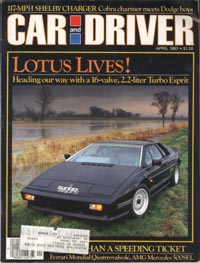 Item # CD8304
Car and Driver Magazine
April 1983
Vol 28 #10
This Issue Includes: 83 Lotus Turbo Esprit; Colin Chapman 1928-1982; Road Tests: 83 Pontiac 6000STE, Sneak Preview: 84 Pontiac 2000 Turbo, 83 Dodge Shelby Charger, Preview: GM's New S-Car; Sweet Dreams With Franco Sbarro; Tougher Than A Speeding Bullet; Cars By Computer; Son Of Smoot-Hawley; Short Takes: 83 AMG Mercedes 500SEL, Hurst/Olds, Ferrari Mondial Quattrovalvole; 83 Honda Accord; New & Improved Porsche 944 Turbo, Sierra Import Plans, Souped Up Supra, SVO Mustang, Cadillac Two-Seater; Nissan Prairie Van; Audi 80 Quattro; Rick Mears And Old No.9; The 700-HP Rubiks Cube.
SOLD