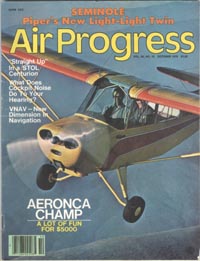 Item # AP7810
Air Progress Magazine
October 1978
Vol 40 #10
This Issue Includes: Pirep: 46 Aeronca 7AC Champ, Piper Seminol Light Twin, 78 Mooney M201, Cessna 210 STOL Mod; A Douglas DC-3 Story; What Does Cockpit Noise Do To Your Hearing?; Rebuilding A P-51 Mustang; A Tale Of Two Crashes.
$5.50 + Shipping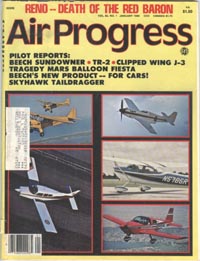 Item # AP8001
Air Progress Magazine
January 1980
Vol 42 #1
This Issue Includes: Pireps: Sundowner 180, Grumman TR-2, Cessna 172 Taildragger Conv, Piper J-3 Clipped Wing; ABQ Balloon Festival; Reno Air Races; Beech Raytheon Merger; Do It Yourself Maintenance Part 11.
$5.50+ Shipping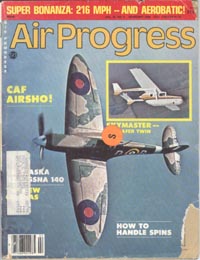 Item # AP8002
Air Progress Magazine
February 1980
Vol 42 #2
This Issue Includes: Pireps: Piper Tri-Pacer Restoration, Cessna Turbo SkyMaster Twin, Beech Super Bonanza Mod; North To The Arctic Circle In Two Cessna 140s; Hanger Queen Tale Of A Reluctant Mooney; Cessna's Expo 80; The Harlingen Time Machine, CAF Airshow 79; How The FAA Solved The Highway Problem; Understanding Spins.
SOLD