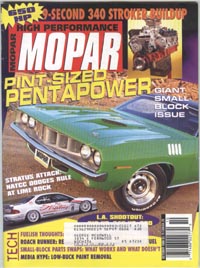 Item # MP9610
Mopar Performance Magazine
October 1996
Vol 10 #6
This Issue Includes: Into The Stratus-Phere; Fuelish Thoughts; Get Pumped; Resto Tech: Multi-Media; 'LA' Rockets; Stroked For The Nines Part 1; Doin' The 'LA' Mopar Shuffle; 96 Chrysler Classic Show; Cars: 71 Plymouth GTX Hemi; 68 Dodge Coronet 318; 71 Plymouth Cuda 340; 73 Dodge Dart 340 Sport; 78 Plymouth Volare 360 Kit Car.
$5.50+ Shipping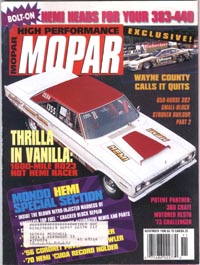 Item # MP9611
Mopar Performance Magazine
November 1996
Vol 10 #7
This Issue Includes: Goodbye, Wayne County; 1996 Mopar Atlantic Nats; Stroked To The Nines Part 2; Quick Tech: Teething Trouble; "Vanishing Point" Revisited; Inside Nostalgia Top Fuel; Here A Hemi, There A Hemi, Everyone Can Have A Hemi; Alternative Hemis; Facts On Cracks; Cars: 66 Plymouth 426 Hemi; 68 Dodge Charger Hemi; 67 Plymouth Belvedere RO23 Option; 70 Plymouth Cuda Hemi; 56 Dodge Coronet w/392 Hemi.
SOLD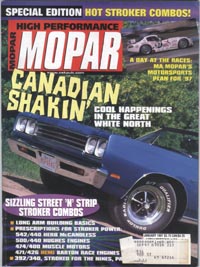 Item # MP9701
Mopar Performance Magazine
January 1997
Vol 11 #9
This Issue Includes: Stroke It!; Master Stroke; Stroked For The Nines Part 3; The 1997 Mopar Motorsports Plan; Roach Runner Rollers; Oh Canada; Canadian Connection; Cars: 55 Dodge Pickup; 72 Plymouth Road Runner; 69 Plymouth Satellite; 68 Dodge Coronet Hemi; 66 Dodge Dart GT Convertible; 95 Dodge Dakota Magnum; 63 Dodge 330 Wagon.
$5.50+ Shipping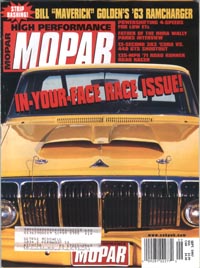 Item # MP9709
Mopar Performance Magazine
September 1997
Vol 11 #5
This Issue Includes: Drag Masters Early Rails; Strip Shootout 71 Cuda 383 vs 69 GTS Dart 440; Father Of NHRA: Wally Parks Interviewed; Monster Mopar Weekend XI St. Louis Mo.; Giant Tech Story: Magnum Heads Part II; Tranny Tightening Beefing The A-500 Valve Body; Clean-Fingers Tech: How To Powershift; Cars: 65 Altered Wheelbase Plymouth Belvedere; 62 413 Ramcharger Dodge Dart; 82 Plymouth 440 TC3 SuperMod; 70 Plymouth 340 AAR Barracuda Coupe; 63 Ramcharger Dodge Dart; 1957 Plymouth Hot Rod Mag Project Car Recreation; 71 Plymouth RoadRunner.
$5.50+ Shipping