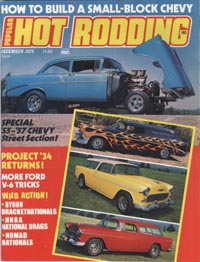 Item # PH7512
Popular Hot Rodding Magazine
December 1975
Vol 14 #12
This Issue Includes: NHRA National Drags Indy Shootout; 8th Annual Pop Rod Championships Martin Mich; Nomad Nationals Memphis Tenn; The Bracket Nationals Byron Ill; How To Build A Small-Block Chevy; Project 34 Ford 5W Coupe Returns; More Ford V-6 Hop-Up Tricks; Cars: 32 Chevy 5 Window Coupe; 34 Ford Sedan Delivery; 55 Chevy Nomad 2dr Wagon; 71 Corvette Coupe Custom; 56 Chevy Lifted Nomad 2dr Wagon; 75 Chevy Monza ProStock; 30 Ford Model A Roadster; 56 Chevy Lifted 2dr Sedan; 57 Chevy Nomad 2dr Wagon.
SOLD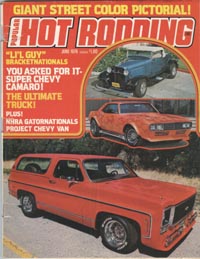 Item # PH7606
Popular Hot Rodding Magazine
June 1976
Vol 15 #6
Condition: Has Two Pages With Special Offer Coupons Cut Out.
This Issue Includes: Gettin' Down In Louisville; '76 NHRA Gatornationals; "Li'L Guy" Bracket Nationals; Announcing The 2nd Annual Street Rod Drags; Announcing The 8th Annual Pop Rod Championships; Super Chevy Camaro Project; Project Street Roadster - Part IV; Balance Of Power; Project Chevy Van - Part III; Programming The Valve Body; Cars: 27 Ford Model T Coupe; 32 Ford Roadster; 76 Chevy Chopped Blazer; "Beachcomber" Funny Car; 57 Hillman Husky Sedan Delivery; 34 Ford Hiboy Roadster; 28 Dodge 4dr Sedan; 71 Pinto Coupe.
$5.50+ Shipping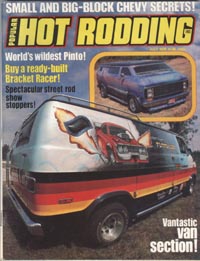 Item # PH7607
Popular Hot Rodding Magazine
July 1976
Vol 15 #7
This Issue Includes: Bicentnnial Show Stoppers; Announcing 8th Annual Pop Rod Championships; Muscle Car Update - The Legendary GTO; Grannie's Stovebolt; Buy A Ready-Built Bracket Racer; Small-Block Chevy Science; Project Street Roadster - Part V; Cars: 75 Chevy Chopped Van Custom; 37 Ford Coupe; 34 Ford Victoria Sedan; 29 Ford Model A Hiboy Roadster; 26 Ford Model T ForDor Sedan; 75 Dodge Van Custom; 32 Ford 3W Coupe; 27 Ford Model T ForDor Sedan; 71 Ford Pinto Rear Engined Coupe; 36 Ford Tudor Sedan; Ford Model T ForDor Sedan;
$5.50+ Shipping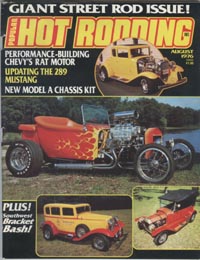 Item # PH7608
Popular Hot Rodding Magazine
August 1976
Vol 15 #8
This Issue Includes: Southwest Bracket Bash; Announcing The 8th Annual Pop Rod Championships; Performance Building Chevy's Rat Motor; Project Street Roadster - Part IV; "Wooding" Project 34 Ford Coupe; New Model A Chassis Kit; Updating The 289 Mustang; Cars: 29 Ford Model A Hiboy Roadster; 23 Ford Model T Bucket Roadster; 32 Plymouth Cabriolet; 29 Ford Model A Woody Wagon; 32 Ford ForDor Sedan; 30 Ford Model A Tudor Sedan; 28 Ford Model A Chopped Cabriolet; 26 Ford Model T Touring; 35 Chevy 2dr Sedan; 32 Chevy 5W Coupe; 31 Ford Model A Hiboy Chopped Coupe;
$5.50+ Shipping