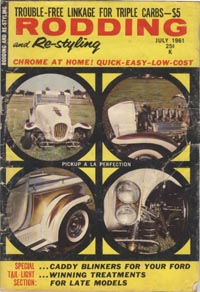 Item # RR6107
Rodding And Re-Styling 5 x 8
July 1961
Vol 8 #5
Condition: Front Cover Has Tears But Is Still Intact.
This Issue Includes: Perfection: Ala Kart Model A Roadster Pickup Custom; Mighty Low 54 Buick 2dr Sedan Custom; Stars To His Wagon 59 Chevy El Camino Pickup Custom; Little Princess 41 Chevy Sedan; Battlin' 60 Pontiac Bonneville 2dr Hardtop; Special Taillight Report: Caddy Blinkers For Your Ford, Lenses De Luxe; Chrome At Home! Test And How To; Trouble-Free Linkage For Triple Carbs; Playin' The Name Game Displaying A Calling Card; What You Should Know About Junkyards.
SOLD