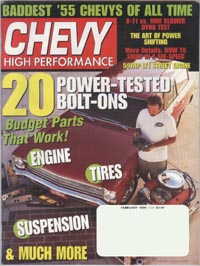 Item # CP9902
Chevy High Performance Magazine
February 1999
This Issue Includes: Performance-Proven Parts Guide; Air Superiority Fighter; The Big & Little Of Superchargers; Get Six - Part II; Baddest 55's Of All Time; Blame It On Memphis; Route 66 Reunion Bash; Swap & Shop; Semi-Charmed Life; The Art Of Shifting; Cars: 55 Chevy 2dr Sedan; 66 ChevyII Nova Wagon.
$5.50+ Shipping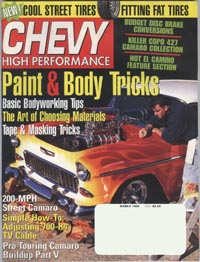 Item # CP9903
Chevy High Performance Magazine
March 1999
This Issue Includes: Hot Licks; Color Your Own; How To Repair Rust; Top Tape Tips; Hard-Hittin' Shiftin'; Fat On All Fours; Get A Grip; Project Thrasher Part V; Back Stops; LT1 Power Tactics; The Northwest Classics; Heaven On Earth; Bedtime Tales; Cars: 55 Chevy 2dr Hardtop; 97 Chevy S-10 Pickup; 87 Chevy Camaro Coupe.
SOLD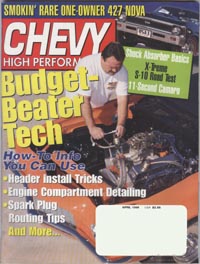 Item # CP9904
Chevy High Performance Magazine
April 1999
This Issue Includes: Bolt-On, Save $, Have Fun!; Engine Compartment Detailing; Header Bolt-On Tricks; Don't Burn Your Boots; Power To The People; Silence Of the Lugs; Shock Absorber Basics; Rat Motor Buyers Guide; Spaced Out; Cars: 68 ChevyII Nova SS Coupe; 69 Chevy Camaro Coupe ProStreet; 99 Chevy S-10 Xtreme Pickup; 96 Chevy Impala SS 4dr Sedan; 71 Chevy Camaro Coupe ProStreet; 72 Chevy Camaro Z/28 Coupe.
$5.50+ Shipping