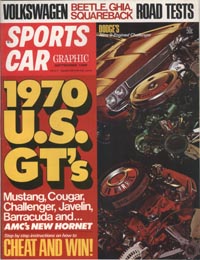 Item # SG6909
Sports Car Graphic Magazine
September 1969
Vol 9 #9
This Issue Includes: Road Test: 69 Volkswagen Beetle Sedan, 69 Volkswagen Karman Ghia, 69 Volkswagen Squareback; Driver's Report: 69 Audi 100 LS; 1970 U.S. GT's: 70 Plymouth Barracuda, 70 Dodge Challenger, 70 Mercury Cougar, 70 AMC Javelin, 70 Ford Mustang, 70 AMC Hornet; How To Cheat In The Trans-Am; Two For The Price Of One - This Weekend Only; The Sears Point Affair; Dutch Grand Prix; French Grand Prix.
SOLD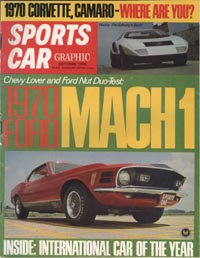 Item # SG6910
Sports Car Graphic Magazine
October 1969
Vol 9 #10
This Issue Includes: Road Tests: 69 Ford Mustang Mach1, 69 NSU Ro80; Driver's Report: 69 Peugot 504; General Motors' Missing Model Year; 1970 AMC AMX; Return Of The Gullwing Mercedes C111; Roaring Wheels; Pooof! The Magic Seatbag; Klondike 200 Can-Am; A Battle Of Inches; Stewart Robs Rindt, Takes Fifth; Ickxitement At Nurburgring.
SOLD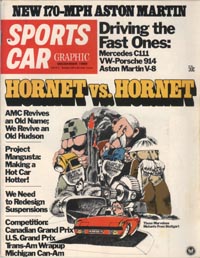 Item # SG6912
Sports Car Graphic Magazine
December 1969
Vol 9 #12
This Issue Includes: Road Test: 69 De Tomaso Mangusta; Driver's Reports: 69 Aston Martin DBS V8, 69 Porsche 914, Mercedes C111; Two Hornets - A Case Of Second Cars; College Auto Racing Is On The Grid; Modern Suspensions Revisited; The Almost; Very Nearly, But Not Quite Irresistible Force; A Taste Of Money; Big Yuk-In At Watkins Glen; Thunder Road The Great 69 Trans-Am War.
SOLD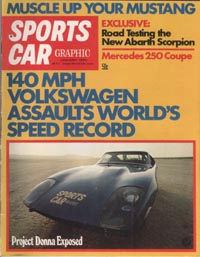 Item # SG7001
Sports Car Graphic Magazine
January 1970
Vol 10 #1
This Issue Includes: Road Tests: 70 Abarth Scorpion 1300; 70 Mercedes 250 Coupe; Drivers Report: 70 Fiat Dino 2400 and 70 Fiat 124 Sport Coupe; A Moral Dilemma Owning A Sports Car; Down To The Salt In Shifts 140hp Project Volkswagen Sports Car; European Showoffs: Paris, London, Turin; Mangusta Stage 2; The Very Very Last Can-Am Of The Decade; Bits And Pieces From The Mexican GP; Baja 1000.
SOLD