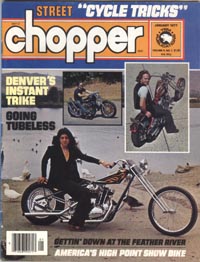 Item # SC7701
Street Chopper Magazine
Jan 1977
Vol 9 #1
This Issue Includes: Feather River Run; the Magician; Low Rider Trike Kit; Road Test: Kawasaki K2 1000; Just Leather; Mulholland Challenge; $60 An Hour Trip; Aircraft Clamps; Goin' Tubeless; Oil Lines With A Twist; Magnetic Drain Plugs; End Uglizzz's Denver's New Line; Bikes: Sportster; Cycle Tricks; Judy's Jealousy; Three Wheelin' Knuckle; The Horseman; Hayward Hauler; Dude; The Goose.

SOLD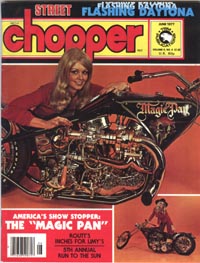 Item # SC7706
Street Chopper Magazine
Jun 1977
Vol 9 #6
This Issue Includes: Run To The Sun; Clean Up Your Act; Daytona 77; CCD Goodies; Road Test: Yamaha 750; Rat's Hole Show; Panhead Repair; Halicraft's Honda Hook Up; IBCO Gaskets; Routt's Big Bore; B&B Foreward Controls; Bikes: Santa Rosa Express; The "Magic Pan"; Horse Trader; Sister Golden Hair; So. Cal Nor Cal.

SOLD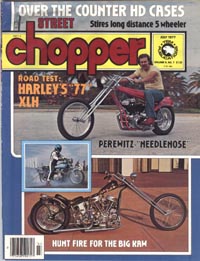 Item # SC7707
Street Chopper Magazine
Jul 1977
Vol 9 #7
This Issue Includes: Kansas City Show; Diggin' At Fremont; Road Test Harley XLH; Exhausting; So. Cal Showdown; Hunt's Kawasaki Mag; Replacement HD Cases; Primary Roller; Strutin' With SB&F; Dual Row Link-Up; Bikes: Needlenose; Black Sabbath; Stires Truck Trike; Black Dahlia; Speedy; Cosmic Queen; Ghetto Gambler; Just A Little Different; The Casino Kid.

SOLD