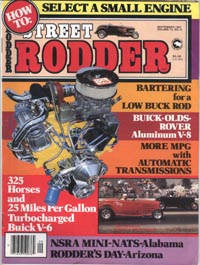 Item # SR8109
Street Rodder Magazine
September 1981
Vol 10 #9
This Issue Includes: Barter For A Rod; Garage Scene Colorado; Henry Hirise; Tech: Downsized Drivetrains; Lightweight Champ; Switch-Pitch Converters; Tucson Rodders Day; Deep South Mini Nats Birmingham, Al; Antique Hot Rod Drags Fremont Raceway; Cars: 32 Ford Hiboy Roadster; Wishbone Custom Roadster; 29 Ford Model A Roadster Pickup; 23 Ford Model T Bucket Roadster Pickup; 36 English Ford Tudor Sedan.
$5.50 + Shipping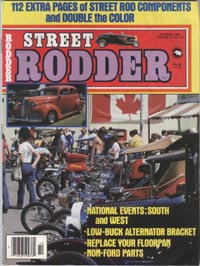 Item # SR8110
Street Rodder Magazine
October 1981
Vol 10 #10
This Issue Includes: Parts For Non-Fords; Project Update Ol'Goat; Project Update Hi-Tub; Tech: Don't Let It Floor You; Low Buck Alternator Mount; Armed Forces Day Tustin, Ca; Shep's Dixie Nats Winston-Salem N.C.; NSRA Nats South Columbia, S.C.; NSRA Western Nats Santa Maria, Ca; Mountain West Picnic Utah; Kustomachine Jerry Titus 50 Mercury Chopped Tudor Sedan; 41 Willys 4dr Sedan; 36 Ford 5W Coupe; 34 Plymouth 5W Coupe; 34 Ford Tudor Sedan; 33 LaSalle 4dr Sedan; 40 Ford Standard Coupe; 40 Chevy Coupe.
$5.50 + Shipping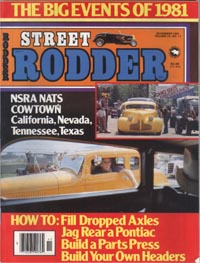 Item # SR8111
Street Rodder Magazine
November 1981
Vol 10 #11
This Issue Includes: Tour Gasoline Alley Levit-Town, NY; Henry Hirise; Ol' Goat Gets A Jaguar IRS; How To Build A Parts Press; How To Build Headers; Filling A Dropped Axle; L.A. Roadsters Father's Day; NSRA Nationals Columbus, Oh; Memphis 4th Of July; Cowtown Nationals Kansas City; Showtime Las Vegas; Cars: 23 Ford Model T Bucket Roadster Pickup; 41 Hupmobile 4dr Sedan; 32 Ford Roadster; 41 Chevy Coupe; 40 Ford Deluxe Coupe.
$5.50 + Shipping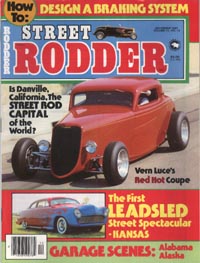 Item # SR8112
Street Rodder Magazine
December 1981
Vol 10 #12
This Issue Includes: Garage Scene Alabama; The Street Rod Capital Of The World? Danville, Ca; Designing Stopability; Instant Threads With The Nutter; Eliminator Shocks; Leadsled Street Spectacular Wichita, Ks; ICAS Grand Finale Las Vegas; Peoria Again; Cars: 32 Chevy 2dr Sedan; 47 Ford Tudor Sedan; 33 Ford Hiboy Chopped 3W Coupe; 51 Mercury Tudor Sedan Custom; 27 Ford Model T Hiboy Roadster; 28 Ford Model A Sedan Delivery.
$5.50+ Shipping