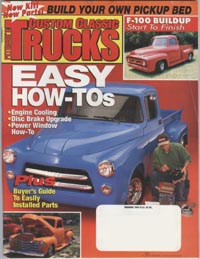 Item # CCT9812
Custom Classic Trucks Magazine
December 1998
Vol 5 #6
This Issue Includes: How To's: Install An Electric Fan; Convert To Rear Disc Brakes; How To Install Power Windows; Buyer's Guide: Easily Installed Parts; Understand Wiring; Build Your Own Pickup Bed; Rearend Surgery; Spring Dust-Off; Rollin' Rods Of East Texas Show; NSRA Mid-American Nats; 10th Annual Run To The Sun; Trucks: 55 Dodge Pickup; 59 Chevy El Camino; 54 Ford Chopped Pickup; 48 Chevy Pickup; 67 Chevy SNB Pickup; 54 Ford F-100.
$5.00+ Shipping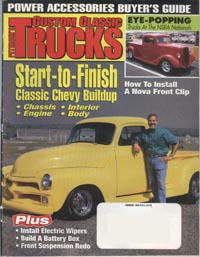 Item # CCT9902
Custom Classic Trucks Magazine
March 1999
Vol 6 #1
This Issue Includes: Start-To-Finish Classic Chevy Buildup; Install Electric Wipers; Build A Battery Box; Front Suspension Redo; Power Accessories Buyer's Guide; NSRA Nationals; GoodGuys Columbus Nationals; Brake Time; Hood Flip Kit; Graphics Hot-To; Wiring Made Painless; Nova Clip Install; Trucks: 59 Chevy El Camino; 57 Chevy Pickup; 51 Ford Pickup.
$5.00+ Shipping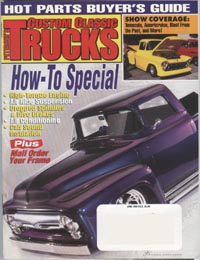 Item # CCT9904
Custom Classic Trucks Magazine
April 1999
Vol 6 #2
This Issue Includes: High-Torque Engine, Part I; Putting The Ride Back In Your Ride; Dropped Spindles And Disc Brakes For Classic Trucks; Cab Sound Insulation; Install Air Conditioning; Mail-Order Frame; Front Suspension Redo, Part II; Golden State Pickup Parts; Fords Invade The Berry Farm; Americruise; GoodGuys Pomona; 10+ Trick Paint & Body Tips; Blast From The Past; Back To Temecula; Trucks: 56 Ford Roadster Pickup; 52 Ford Pickup.
$5.00+ Shipping