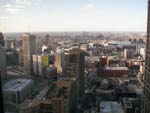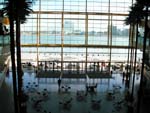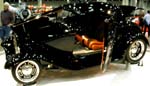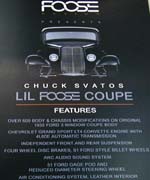 Well, my friend Keith Diehl and I made the trek north to Detroit again to take in the 06 Autorama. What a show - this thing is big - the report I got was some 900 entrants (for an indoor car show!!!!). We ended up staying in Detroit's Renaissance Center on the 49th floor. As you can see from some of the pics, it was a room with quite a view. This is also where GM houses many of their corporate offices. We hooked up with friends we met in Louisville, Dave and Margaret Guttman, who brought their beautiful 41 Ford Mild Custom. They brought along the man who performed a big piece of the metal workmanship and paintwork, Jeff VanLuvanee. This is a very nice young man with talent beyond words. We also met and hung out some with "Joe" and his 55 Caddy rat rod. Interesting story: The Caddy has Joe's late father's 455 Buick engine in it and made the Hot Rod Power Tour long haul - 2000 miles with no windows! Anyway, Joe said this wasn't his father's Buick (Buick's old tag line) but is powered by his father's Buick.

We left Sunday morning, so at that time we didn't know who won the Ridler Award. Beyond the obvious "great 8" competing for the final big award, there were some cars that I especially liked. Three 55 Chevys caught my eye - a silver convertible, a BBC silver post car with Arias hemi heads, and an orange/light cream prostreet that the owner home built after his wife bought it for a project birthday present. Another car that was a killer was an orange 63 Chevy Impala "sportsroof". This vehicle combined a top from a 60 Plymouth and a complete interior from a 64 T-bird. Exceptional workmanship and design made this one of my favorites at the show. Then, there was the "traditional rods" section (aka rat rods). Actually, this is a misconception. Yes, there were several "rats", but there were also many traditionally styled hotrods that have drawn the attention of several of the hobby's leading designers and customizers. Saturday evening was when the "traditional rods" picks were handed out. Among the presenters were Bob Larivee, Brian Brennen, Pat Ganahl, Troy Trepanier, Jimmy Shine, Mike Alexander, Chuck Miller, and George Barris - some pretty heavy-hitters for what some perceive as the "rat rod" section of the show. Chip Foose, true to his word, built a car for this section of the Autorama. Based on a 32 Ford Roadster, he brought what he calls the B-32. Of special note, our own SR.com buddy Nic32Vic won the "chicks pick" award for his blue 32!

Other notables were the huge gathering of Mopars of all kinds. Lots of Hemis. Then there was the museum that brought the original and unrestored Buick Bobcat II. This is the third concept car that goes with the two others (Olds F-88 & Pontiac Bonneville Special) that have shown up at Barrett-Jackson the last two years. There was also a big section devoted to "tuners" and the younger crowd, a custom bicycle section, several motorcycles, and a collectible area. Even "Eddie Munster" was on hand signing autographs along with the Munster Coach. One more place on the floor of special interest was the Pinstriper's Jamboree. Dozens of pinstripers from all over, worked on all sorts of pallets that were then auctioned off at regular intervals to raise money for charity - very cool...