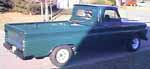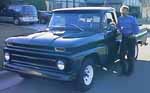 Bud, Jack & Ted's Alaska Adventure
FRAMES version

Page | 1| 2| 3| 4| 5| 6| 7| 8| 9| 10| 11| 12| 13| 14| 15| 16| 17| 18| 19| 20| 21| 22| 23| 24| 25| 26|

---
Prev <--- Alaska Trip Page 6 ---> Next


Fort Nelson after the storm passed
We arise to have breakfast in the hotel and prepare for the new day. Jack and I peruse the postcards on display in the lobby and decide to send a few to family members. Returning to the airport, they drop me off at the FSS to obtain a weather briefing and file our flight plan while Jack preflights the plane.

Next morning leaving fort Nelson
As we head out, there are only puffy white cumulus, but the ride is slightly bumpy so we climb to 8,500.

Coming in to Watson Lake
(look at the reflection of the clouds in the lake)
We try several times to make contact with the tower and got no response so cleared the area and proceeded to land.

These guys have come from
the New England area
Taxiing up to the pumps we see the 2 planes that departed Ft. Nelson ahead of us this morning. After brief introductions around, we all wondered what to do about the locked fuel shack and no attendant. The 2 planes (J-3 Cub & Citabria) were from the New England area and had been traveling for two weeks. After a brief wait, a fellow drove up and began to lecture us on the fact that the tower was closed and the frequency that we all had been transmitting on was not the one clearly specified in the supplement (126.7). This was known as unpleasant encounter number 2. In fairness to him though, after he had his say, he volunteered to drive one of us into town to let the fuel man know that he had 3 customers. After we fueled up, we were on the way again, bound for Whitehorse. We basically follow the Alaska Highway on this next leg since it is generally a straight line.
Prev <--- Alaska Trip Page 6 ---> Next
---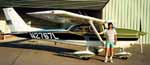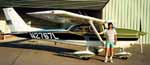 Page | 1| 2| 3| 4| 5| 6| 7| 8| 9| 10| 11| 12| 13| 14| 15| 16| 17| 18| 19| 20| 21| 22| 23| 24| 25| 26|
| Home | Links | Store | Vendors | Events | Forum | Specs | Pics |
Ancil T. (TED) Davis
atdavis1@cox.net
Last Update 05/02/97