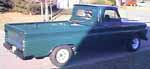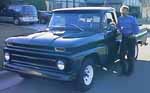 Bud, Jack & Ted's Alaska Adventure
FRAMES version

Page | 1| 2| 3| 4| 5| 6| 7| 8| 9| 10| 11| 12| 13| 14| 15| 16| 17| 18| 19| 20| 21| 22| 23| 24| 25| 26|

---
Prev <--- Alaska Trip Page 12 ---> Next


Now that's a sod roof
A closeup of the roof construction of the Robert Service cabin.
(Looks like it would be hard to mow) hee hee

The interior of Robert Service's cabin
Pretty small in there. Note the small typewriter on the table, this is apparently the one he used when composing the poems.

The food cache
This is how you keep your food safe from the marauding animals in the area. The metal band at the top keep bear's claws from gripping and getting to the top. Bud and I both thought of how much Dad would have enjoyed coming to Alaska and seeing places that he had read about.

If we could read the GPS, we'd see
Latitude & Longitude crossing into Alaska
The owner of the White Ram takes us out to the airport and we are on our way to Fairbanks by way of Eagle. After we are away I miss my camera and decide that I must have left it in the van. I'll call them when we arrive in Fairbanks. Once again Jack uses the GPS to locate when we cross into Alaska and a cut line in the timber below appears to coincide with the GPS reading.
Prev <--- Alaska Trip Page 12 ---> Next
---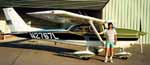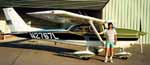 Page | 1| 2| 3| 4| 5| 6| 7| 8| 9| 10| 11| 12| 13| 14| 15| 16| 17| 18| 19| 20| 21| 22| 23| 24| 25| 26|
| Home | Links | Store | Vendors | Events | Forum | Specs | Pics |
Ancil T. (TED) Davis
atdavis1@cox.net
Last Update 05/02/97