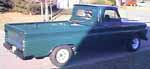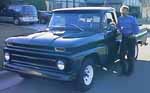 Bud, Jack & Ted's Alaska Adventure
FRAMES version

Page | 1| 2| 3| 4| 5| 6| 7| 8| 9| 10| 11| 12| 13| 14| 15| 16| 17| 18| 19| 20| 21| 22| 23| 24| 25| 26|

---
Prev <--- Alaska Trip Page 11 ---> Next


Good tour and info about
the Klondike gold rush days
No hurry this morning since we are only about 250 miles from Fairbanks, so we give the town a good last look. Do a little present buying for the family-prints for daughter Tami (Cabin) & daughter-in-law Sandra (Wheels of Fortune).

They used the shallow draft
stern wheelers to bring out the gold
In the early morning we join up with a tour group describing the early days of Dawson (using the stern-wheeler to haul gold downstream, the ice jams on the river that causes a flood the inundates the town). We don't complete the tour since we want to be on time for the Robert Service poem readings given by Tom Byrne.

Robert Service's cabin
If you come this way, don't miss this. We also go to the Jack London cabin and listen to a narration of some of his time spent here.

Tom Byrne deliverying
Robert Service poems.
Tom Byrne dresses in clothing from that bygone era and makes the poems come to life. Maybe you don't recognize the name Robert Service but I bet you've heard of "The Spell of the Yukon", "The Shooting of Dan McGrew" & "The Cremation of Sam McGee".

On page 26, in it's entirety is my favorite "The Spell of the Yukon"
Prev <--- Alaska Trip Page 11 ---> Next
---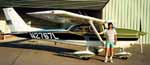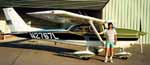 Page | 1| 2| 3| 4| 5| 6| 7| 8| 9| 10| 11| 12| 13| 14| 15| 16| 17| 18| 19| 20| 21| 22| 23| 24| 25| 26|
| Home | Links | Store | Vendors | Events | Forum | Specs | Pics |
Ancil T. (TED) Davis
atdavis1@cox.net
Last Update 05/02/97