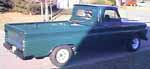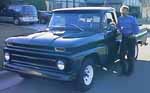 Bud, Jack & Ted's Alaska Adventure
FRAMES version

Page | 1| 2| 3| 4| 5| 6| 7| 8| 9| 10| 11| 12| 13| 14| 15| 16| 17| 18| 19| 20| 21| 22| 23| 24| 25| 26|

---
Prev <--- Alaska Trip Page 7 ---> Next


Heading into Whitehorse
A few miles out from Whitehorse, we encounter a little rain on the windshield.

Getting closer, that's Lake Labarge
A beautiful day as we land in Whitehorse and as we come into the tie-down area, two fuel trucks pull up as soon as we are parked. We ask if there is a difference in the price and since there is none, they decide to flip a coin to see whose turn it is.

There's the airport
(keep it in tight says the tower)
After we tie down, we walk to the terminal and have lunch in the restaurant overlooking the ramp area, where we see a DC-3 all decked out in Air North livery. (Yeah, there should have been a picture taken, but I left the camera in the plane)

After lunch, leaving Whitehorse
(retracing the canoe trip)
As we depart to the north over Lake Labarge, Jack & Bud reminisce about their canoe trip two years ago when they and Andy and friends took a two week canoe trip down the Yukon river from Whitehorse to Dawson.
(I had one email stating that this is not Lake LaBarge, but something else I can't remember and I lost the email) If anyone can verify, let me know.
Prev <--- Alaska Trip Page 7 ---> Next
---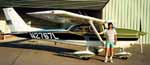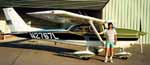 Page | 1| 2| 3| 4| 5| 6| 7| 8| 9| 10| 11| 12| 13| 14| 15| 16| 17| 18| 19| 20| 21| 22| 23| 24| 25| 26|
| Home | Links | Store | Vendors | Events | Forum | Specs | Pics |
Ancil T. (TED) Davis
atdavis1@cox.net
Last Update 05/02/97