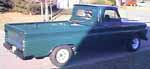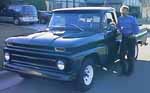 Bud, Jack & Ted's Alaska Adventure
FRAMES version

Page | 1| 2| 3| 4| 5| 6| 7| 8| 9| 10| 11| 12| 13| 14| 15| 16| 17| 18| 19| 20| 21| 22| 23| 24| 25| 26|

---
Prev <--- Alaska Trip Page 14 ---> Next


The welcoming committee
Donny Olson and crowd
Before Donny arrives, several of the young kids have spotted the plane and rush to the airport on their bikes or ATV's to be the first greeters upon Jack's return home. Donny arrives and after an inspection of Jack's airplane, we return to the Olson home to visit with the family. The sign over Olson General Store says it all: "Grub, Guns & Gas".

Rhoda, Uncle Ted, and Jack Davis at the school (Andy is taking the picture)
Jack gives a tour of the town and the school where he and Jennifer have been teaching. We visit Donny's shed where Jack keeps his snowmobile and we see an airplane engine (0-300 like Jack's, maybe) and some aircraft instruments. I tell Jack it looks like a pretty good parts house for his airplane.

Jack showing me the school's yearbook
on the MAC
At the school, he fires up the Macintosh and shows the school yearbook that he and the students are working on. The school is named for Mr. Olson, whose family has obviously been a positive influence to this area.

After the 4th of July celebration, it's time to head for Unalakleet, that's Maggie Olson & her children, Donny and "Sister"
There is talk that the General Store may be closing and what will happen then? Donny stays busy flying, Sister is moving to Nome, and Maggie says she is doesn't want to run it anymore. After attending a short church service, we head to the airport to fly to Unalakleet, which will be Jack and Jennifer's new home.
Prev <--- Alaska Trip Page 14 ---> Next
---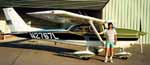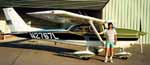 Page | 1| 2| 3| 4| 5| 6| 7| 8| 9| 10| 11| 12| 13| 14| 15| 16| 17| 18| 19| 20| 21| 22| 23| 24| 25| 26|
| Home | Links | Store | Vendors | Events | Forum | Specs | Pics |
Ancil T. (TED) Davis
atdavis1@cox.net
Last Update 05/02/97